Where you are: TXGA → News Center → News Detail Writer:TXGA Posted time 2019.07.05 11:15:03 浏览量:498次
Connector with cleaning function [utility model] | TXGA patent
TXGA connector company received "connector with cleaning function" patent.
Inventor: li qun.
The patent number is ZL 2016 2 1462329.0
Patent application date: December 28, 2016
Patentee: shenzhen tesja industrial electronics co., LTD
Authorization announcement date: September 22, 2017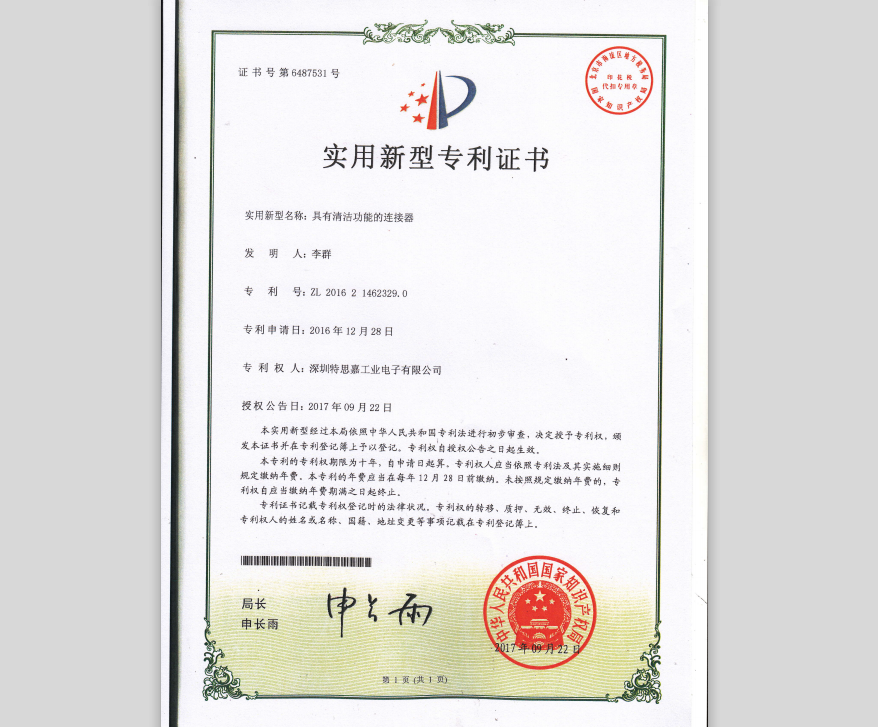 Abstract: the utility model discloses a connector with cleaning functions, aims to solve in the process of use or place, the connection of the connector wiring harness exposed in the air with dust or dirt easily, shorten the service life of the wire harness, which affect the normal use of the connector, the technical solution is: including connectors and wiring harness, wiring harness on the wire and install a clean cleaning device, cleaning devices include cleaning and cleaning device can remove the connection. The utility model is characterized in that the cleaning device can clean the wire harness and extend the service life of the wire harness; The cleaning device is installed on the wire harness, and there is no need to find the cleaning device, which makes the cleaning work more convenient and fast. Cleaning parts can be removed from the cleaning device to facilitate cleaning and replacement of cleaning parts. Part of the dust or dirt on the head of the connection can also be cleaned with the removed cleaning parts, which is convenient and fast, extending the service life of the connector.
Main claim: a connector with cleaning function, including a connector and a wire harness, which is characterized by: a cleaning device with cleaning wire harness installed on the wire harness, and a cleaning device including cleaning parts detachably connected with the cleaning device.