Where you are: TXGA → News Center → News Detail Writer:TXGA Posted time 2019.07.05 14:24:50 浏览量:538次
TXGA patent of self-locking horn connector [utility model]
TXGA connector company, "self-locking horn connector" patent.
Inventor: tian ziliang
Patent no. : ZL 2016 2 1462365.7
Patent application date: December 28, 2016
Patentee: shenzhen tesja industrial electronics co., LTD
Authorization announcement date: August 8, 2017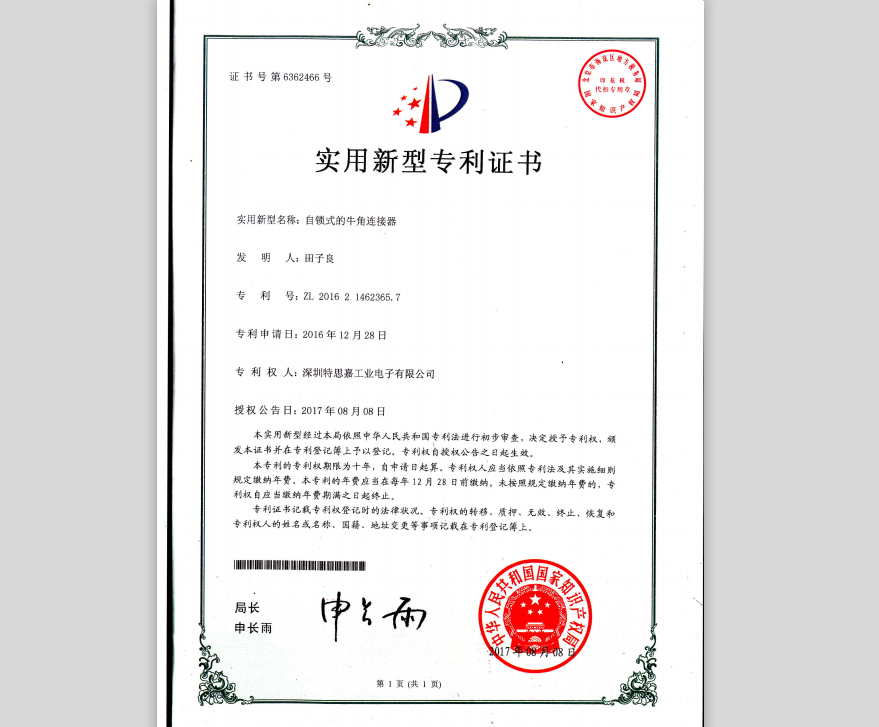 Abstract: the utility model discloses an ox horn connector of self-locking type, which solves the problem that the ear buckle is clamped on the connector of female seat through elastic clip, and the locking stability is poor. Ear clip when collision occurs, in the process of using ear clip out of the question of the unlock, key points of the technical scheme is including the tub, the articulated in the ear clip on both ends of the tub, ear clip fixed ratchet, described in the tub hinged with the ratchet pawl of the occlusion, ratchet wheel and pawl limits described in the ear clip in the direction of the unlock rotation, reached through the ratchet wheel and pawl lock button close to the stability of the mother for the purpose of the connector.
Main claim: a self-locking horn connector, including a slot body and an ear buckle hinged at both ends of the slot body. Its characteristics are: the ear buckle is fixed with a ratchet wheel, and the slot body is hinged with a ratchet wheel with a pawl, which limit the rotation of the ear buckle towards the unlock direction.