TXGA connector corporation received the "strip connector" patent.
Inventor: tian ziliang
Patent no. : ZL 2016 2 1464564.1
Patent application date: December 28, 2016
Patentee: shenzhen tesja industrial electronics co., LTD
Authorization announcement date: August 8, 2017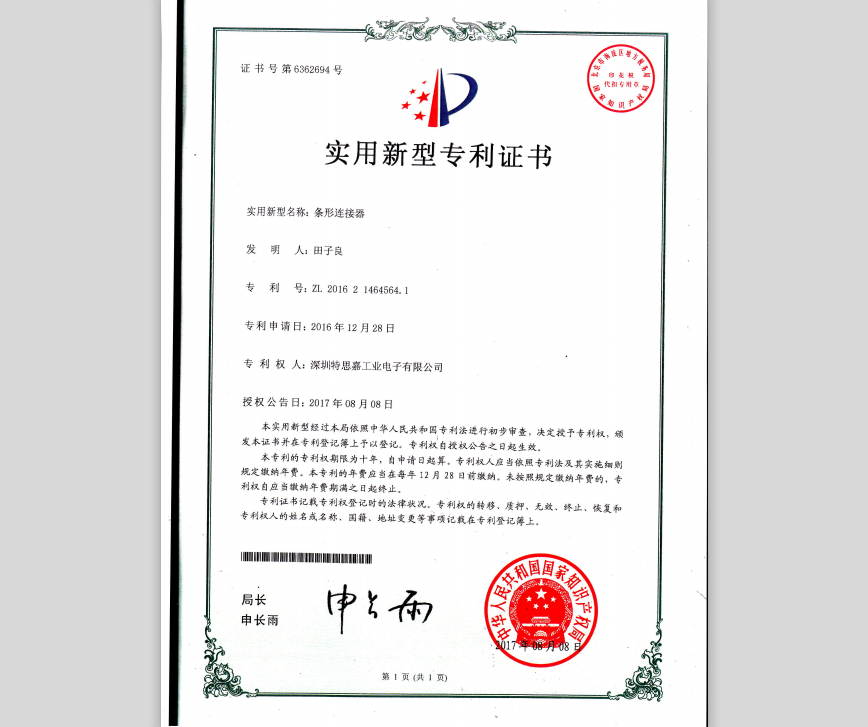 Abstract: the utility model discloses a bar connector, solved due to the collision pin bent slightly, you just need to pull pin use clamp straight, but the setting of the guide sleeve, makes it hard for clamp clamping on the edge of the pin, the pin harder to rectify the problem, the technical scheme includes base are the main points, installed on the base of the pin, around the pin guide sleeve, described the base opened down concave chute, guide sleeve sliding chute, described in the guide sleeve between the chute and inserted with fixed pin; When the fixed pin is removed, the guide sleeve slides into the chute to expose the inserting needle, so as to expose the inserting needle through the receding guide sleeve and facilitate the straightening of the edge of the clamp.
Main claim: a strip connector, including a base, a inserting pin mounted on the base, and a guide sleeve around the inserting pin. Its characteristics are: the base is provided with a concave slide groove, the guide sleeve slides into the slide groove, and a fixed pin is inserted between the guide sleeve and the slide groove; The fixed pin is removed and the guide sleeve slides into the chute to realize the exposure of the inserting needle.